Laws Prohibiting Sex Discrimination in Employment, Including the Equal Pay Act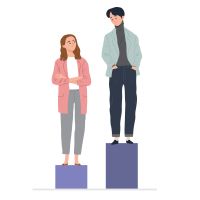 Sex discrimination in the workplace is not just a moral issue—it is also a legal one. Both federal and state laws have protected individuals from unfair treatment based on their sex or gender for over 50 years. More recently, laws that prohibit discrimination based on gender have been applied to LBTG+Q discrimination. Similarly, the battle for wage parity is a long-standing one.
The federal Equal Pay Act (EPA) of 1963 was designed specifically to eradicate wage discrimination based on sex. Ohio passed a similar law in 2000. Together, state and federal laws give employees weapons to battle pay and other forms of sex and gender discrimination.
Title VII of the Civil Rights Act of 1964
Title VII of the Civil Rights Act of 1964 is a fundamental federal statute that prohibits employers from discriminating against employees based on sex, race, color, national origin, and religion. When it comes to sex or gender, Title VII prohibits a wide range of discriminatory practices including hiring, firing, promotions, training, and compensation based on gender. (Title VII also prohibits sexual harassment. You can read more about that HERE.)
Title VII applies to private-sector employers and state and local government employers that have 15 or more employees. It also applies to the federal government as an employer, as well as unions and employment agencies. Title VII does not provide protections for independent contractors.
Employees who believe they have claims arising under Title VII must first file a charge of discrimination with the Equal Employment Opportunity Commission (EEOC). They may not file suit in court until they receive a right-to-sue letter from the EEOC. The deadline to file a charge with the EEOC is 300 days from the date of the last discriminatory practice.
The Equal Pay Act of 1963 (EPA)
Crafted to amend the Fair Labor Standards Act, the EPA asserts a simple yet potent principle: men and women performing substantially equal work at the same establishment must receive equal pay. Unlike Title VII, virtually all employers are covered by the EPA, regardless of size.
Under the EPA, the term "substantially equal work" implies that the jobs, while not necessarily identical, are largely similar in terms of skill, effort, responsibility, and working conditions. It's important to note that job titles or descriptions don't determine this; it's the actual job content and duties that are considered. For instance, a male supervisor and a female lead, both overseeing similar teams and shouldering comparable responsibilities, should be compensated equally, regardless of the difference in titles.
While the EPA is a powerful tool in the fight against wage discrimination, it does not require uniform pay in all instances. The Act outlines specific defenses that employers can assert to shield themselves from liability under the EPA:
Seniority: If pay is determined by a system that rewards tenure, and this system is consistently applied, it can be a valid reason for pay differences between men and women.

Merit Systems: An employer can justify a pay disparity if it is based on a system that measures performance through quantity or quality of production. A clear example is commission-based roles, such as salespeople, where pay is a direct reflection of individual performance.

Pay Based on Quantity or Quality: Similar to the merit system, if an employer has a clear system that bases pay on the quantity or quality of an employee's production, it can stand as a defense. An example would be a factory setting where employees are paid on a "piecework" basis.

Bona Fide Factors Other than Sex: This is a broad category and a common defense that employers raise. For instance, an employer might pay more to an employee with a higher educational qualification or specialized training required for the job.
Employees alleging claims under the Equal Pay Act do not need to file a charge with the EEOC before filing suit in court, although they may do so. Many employees allege violations of Title VII along with EPA claims. The deadline to file a charge or file suit is two years.
Protections against Sex or Gender Discrimination under the Ohio Revised Code
Ohio law complements the protections of Title VII and the protections of the EPA when it comes to sex or gender discrimination. Under Chapter 4112 of the Ohio Revised Code, private-sector employers with four or more employees, Ohio's political subdivisions, and the State of Ohio may not discriminate on the basis of sex or gender.
For claims arising after April 15, 2021, employees seeking to assert claims under Chapter 4112 must first file a charge of discrimination with the Ohio Civil Rights Commission and receive a Notice of Right to Sue from the OCRC. Employees must file suit in court within two years of the discriminatory conduct.
Section 4111.17 of the Ohio Revised Code also has provisions that mirror those of the Equal Pay Act, thus prohibiting pay discrimination on the basis of gender. Ohio law also prohibits pay discrimination on the basis of other protected categories, including color, religion, age, national origin, or ancestry.
Revised Code Section 4111.17 does not require claimants to file with the OCRC first. However, the deadline to file suit in court for a claim under Section 4111.17 is one year.
Telltale Signs of Sex or Gender Discrimination and Employer Defenses
Recognizing discrimination can be challenging, especially when it's subtle – as most forms of gender discrimination are. Gender discrimination can come in the form of stereotyping based on perceived "traditional" gender roles or perceptions about men and women. For example, if a private security firm refuses to hire a woman based on a preconceived notion that women are not strong enough to perform the job duties, that could be discrimination based on gender.
Another potential sign of gender discrimination occurs when several employees are involved in some kind of misconduct at work, such as horse play, absenteeism, or other violations of policy. If the employer disciplines only the women involved in the misconduct, that could rise to the level of gender discrimination.
However, employers facing these claims can sometimes establish defenses that legally justify their actions. The most common defense to a claim of sex or gender discrimination, under both federal and Ohio law, is "bona fide occupational qualification" or BFOQ. An employer seeking to raise a BFOQ defense must prove that gender is a legitimate and necessary qualification for a specific job. For example, casting a female actor in a role depicting a female war hero may be a BFOQ.
Under Section 4112.02(E) of the Ohio Revised Code, Ohio employers seeking a BFOQ must apply for one by submitting required materials to the Ohio Civil Rights Commission. An example of this might occur when a county jail seeks to hire female guards for the female living quarters in the jail.
How to Address Sex or Gender Discrimination
If you believe that you have been subjected to unlawful sex or gender discrimination, here are some steps you can take to protect yourself:
Document everything: Keep detailed records of incidents, including dates, times, locations, people involved, and witnesses. This will be crucial evidence if you decide to file a complaint. Maintain this information at home, not at work, in the event you are terminated and need access to the information.

Consider an internal report to a supervisor or HR: sometimes supervisors or Human Resources professionals can help to address and rectify a workplace situation, without having to resort to legal action.

Consult with legal counsel: Understanding the nuances of both federal and state laws can be daunting, especially because gender discrimination is rarely blatant. An experienced employment lawyer can consult with you to determine what may be – and may not be – unlawful discrimination and can provide you with valuable advice about the best steps to take to address the situation.